When I organise any space in a home, the aim is to always make that space work better. This fundamentally means to make things as easy as possible to use.
That means easy to see what you have, easy to grab what you need, easy to maintain and easy to put back.
If your things are accessible you end up using them more and generally find life a little more simply as a result.
That's why I use filing rather than stacking as my go-to method of storing lots of different groups of items around the house, and is what I want to talk about today.
– – – – – – – – – – – –
Why stacking doesn't always work
Most people (myself included for many years) tend to store their things by stacking them. After all, it's easy to put one thing on top of the other, and most storage furniture or spaces allow for stacking really easily:-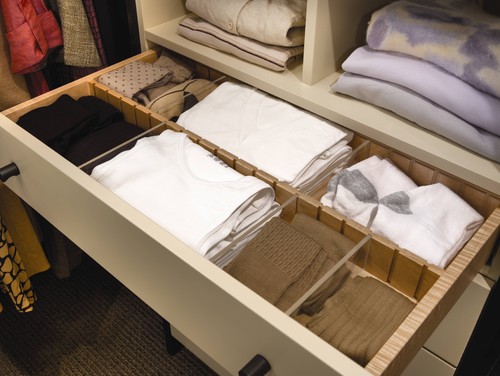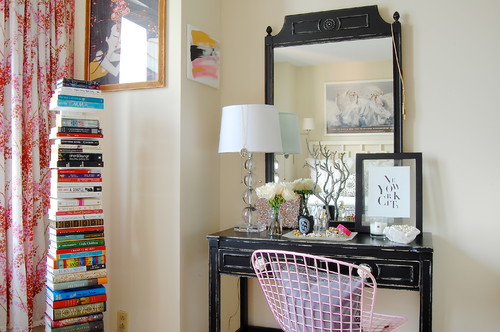 But these piles have some disadvantages (even though they can look really cool for display such as the picture of the books above!):-
Things at the bottom of the pile get squashed (especially clothes)
Piles can easily topple, making mess and possibly damaging the items
You can't see what's at the bottom of each pile (especially in drawers like the first picture above)
You rarely bother to use what's at the bottom of the pile as it's hard to get and you don't know what's there!
– – – – – – – – – – – – –
An alternative to stacking…
The solution to use that answers all of the negatives listed above is to file rather than stack wherever possible.
Let's look at a filing system for papers – which is where we are all used to filing of course:-
Everything has categories and can be clearly seen and grabbed when needed. Nothing is getting squashed and nothing is at risk of toppling over and making a mess.
It's contained, and accessible.
And that's what works so well for so many other genres of items around your home, including books, clothes, baking trays in a kitchen etc….
Here are a few pictures to show you exactly what I mean:-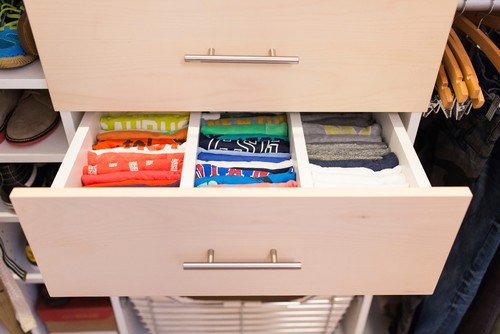 – – – – – – – – – – – –
What are the benefits of filing?
Everything has easy access and you can grab what you need without disturbing the rest
You can see everything you have at a glance without having to pull everything out
You are more aware of what you have and therefore use it all more
You can see what you don't use and get rid of it – rather than it being hidden for years at the bottom of a cupboard
Things are less squashed and less damaged (especially clothes, think of a t-shirt at the bottom of a pile, it will at least need re-ironing before being worn as the creases will be much stronger)
You can more easily label items as you can divide things up – things can get lost far too easily in piles (think of a mass of paperwork in a pile vs. a neatly filed system
Filing requires containers and therefore are automatically that bit more organised. Stacks can grow as large as you want them to grow (or until they fall over…)
– – – – – – – – – – – –
If filing is a new concept for you for other things around the house, then why not try it and get started right now and look at your t-shirts. Usually these are stored in a drawer in piles – but take inspiration from the picture above and try filing them.
This shouldn't take more than 15 minutes to complete, but you should see a massive difference in how much you use each one and how easy it is to grab what you need.
Good luck! and please let me know how you get on.
Do you tend to use stacking or filing in your home? I'd love to know what you think, so why not leave a comment below…